[ Home | Up(Wildside) ] [ About Wildside | Reviews | Browser Details | Installation | Ordering ]
---
Browser Details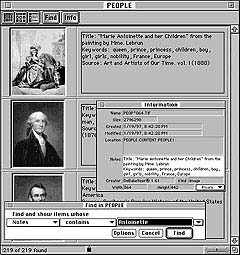 Wildside -- So Simple to Use, and what an Effect!

Wildside Press CD-ROMs feature a Kudo image browser. You can:
View image thumbnails in three sizes.
Double click on an image or use the menu to see it full size.
Drag and place an image directly onto a page layout or painting application. Or copy and paste or use the file system.
Search annoted keywords for each image using Find Keyword (MAC) or Find Notes (PC). Index also in text file.
Variable speed slide show for riffling through the library.
Colorize with any paint program
Royalty free–no hidden fees!
---